Voice Lessons in Folsom
---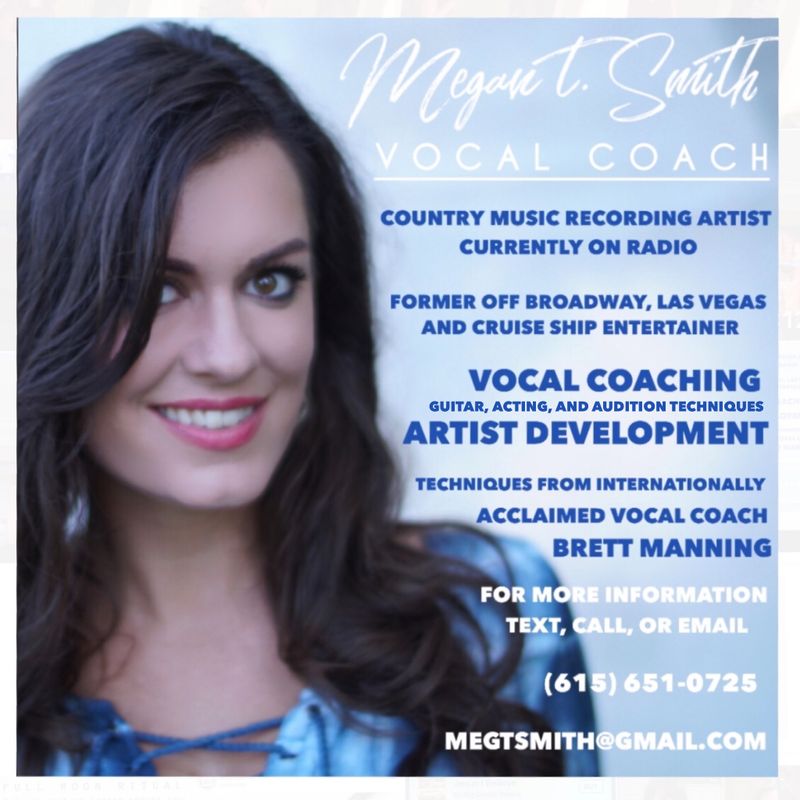 Megan T. Smith is a veteran of the stage and a seasoned educator and encourager for kids in the arts. Megan is a signed recording artist with BMR Nashville whose debut single hit country radio nationwide. She graduated from the University of Redlands with her Bachelor of Arts in English Literature with a focus on Vocal Performance and Public Relations; for the last decade she has had the privilege of performing on stages around the world. She has starred in one of the longest running shows on the Las Vegas Strip, in various theatrical shows, cruise lines, and has performed at CMA Fest, iHeart Radio's Listener Lounge, and much more. She has worked with some of the very best in the industry and has a knack for creatively inspiring and encouraging vocalists as she implements her wealth of musical knowledge throughout their development. 
Megan has a huge heart for kids and an ability to connect with them in a way that makes them excited to learn and grow. She has coached students of all ages and has worked with children in various capacities for over fifteen year as a Glee Club Director, camp counselor, mentor, tutor with the Princeton Review, and even as a few of your favorite fairytale princesses. She understands how to teach the discipline necessary to succeed while maintaining the magic of creating music. She is thrilled to be a part of JJ music and believes wholeheartedly in the healing power of music and the creative outlet it provides all ages. 
Megan T. Smith is a Nashville recording artist with two EPs out and the title track of her debut album, "Even Jesus Drank Wine" currently on country radio. With the vocal influences of Reba McEntire, Martina McBride, The Judds, and a worn out Bodyguard soundtrack, she brings a blend of powerhouse vocals, southern charm, and electric energy to the stage. After calling Nashville home for a little over four years, Megan has had the privilege of playing just about every honky tonk stage on Broadway, several label showcases during CMA Fest, and iHeart Radio's live on air Listener Lounge. 

Prior to moving to Nashville and getting signed with BMR Records, she spent her time on stage sailing around the world as a lead production cast singer with Celebrity Cruises. Megan has also starred in one of the longest running shows on the Las Vegas Strip, 'Tony and Tina's Wedding' as well as being cast as the original Monica Gellar in the Las Vegas cast of 'FRIENDS: The Musical Parody!' Once upon a time, she also spent time portraying some of your favorite big screen princesses throughout California and Tennessee. 

While Megan was born in the south and has lived a lot of life there, her family are all native Californians, so Northern California is where she calls home. She is incredibly excited and honored to be joining the JJ Music family.